The team at Peak Recruitment are specialists in Animal Agriculture and Crop Agribusiness markets serving Thailand and Myanmar, as well as primarily the whole of South East Asia.
For over 5 years, Peak have developed a comprehensive expertise and know-how in supporting international companies in their agricultural and agribusiness recruitments in Thailand and Myanmar.
Agricultural Recruitment in Thailand
Thai agriculture depends on a skilled, well trained and well educated workforce. Luckily, Thailand have more than their share of the relatively small worldwide talent pool in the food and agriculture sectors, and as Peak Recruitment are headquartered in Bangkok, we are ideally placed to deliver the right people in the right agriculture roles.
Ensuring our clients remain ahead of their competition, Peak strive to match the right faces in the right job role in the ideal company. Thai farmers have practiced traditional farming for hundred's of years, and local indigenous knowlege of sustainable farming is still widespread... but it is the huge advances in agricultural technology that the sector in Thailand has taken advantage of; and businesses who are taking advantage of this boom in Thai agriculture are who Peak excel in recruiting for.
Agricultural Recruiters in Myanmar
Myanmar is a primarily agricultural country, and was once Asia's largest exporter of rice (a position now taken by Thailand), and whilst rice remains the country's most crucial agricultural commodity, livestock, pulses, beans, sesame, sugarcane, groundnuts and fish are other main crops. Agriculture (and aquaculture) accounts for 70% of the Myanmar workforce, and restrictions in foreign business investments having been raised hugely in recent years. In 2018, foreign businesses were allowed to invest up to 80% in joint-venture businesses in Myanmar's agricultural sector (increased from a previous 49%).
Here at Peak Recruitment, we specialise in recruiting for leading roles in the Myanmar agricultural sector with its growth in global markets, enlisting the best personnel for a variety of agriculture and aquaculture positions.
Animal agriculture Recruitment in Thailand and Myanmar: Functions and industry areas Peak recruit for
Peak recruit for the entire animal husbandry and aquaculture industries, filling vacancies in areas such as research and development, breeding, veterinary care and meat and dairy production.
​
​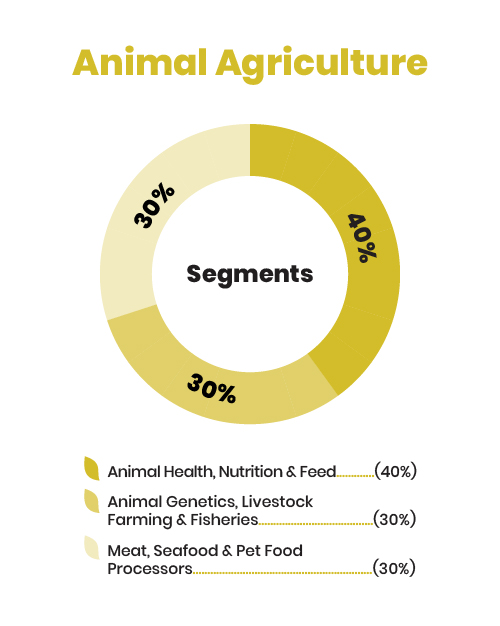 The functions that we recruit for are:
Senior Leadership/Executives

Sales/Commercial Operations

Marketing/Communications

Veterinary/Formulation/Nutritionist

Technical/Research & Development

Animal Production/Farm Management

Manufacturing/Supply Chain

Regulatory Affairs/Quality
Animal agriculture categories we recruit for include: Swine, poultry, layer, aquaculture, ruminants, companion, beef cattle, dairy cow and equine.
Our segments are fairly evenly divided:
Animal Health, Nutrition and feed: 40%
Animal Genetics, Livestock Farming and Fisheries: 30%
Meat, Seafood & Pet Food Processing: 30%